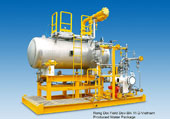 GlobalTech customized produce water treatment package are designed and manufactured to meet detailed client specifications. From third party certification like ABS/DNV to complete factory acceptance testing, utilizing inhouse project management, the most current computer designs and the latest industry engineering standards to meet customers' requirements.
Produce water treatment
Water that is produced with oil must be disposed of in an environmentally satisfactory and efficient manner. After the water, oil and gas are seprated, the water which still contains some solids, oil and dissolved based must be treated to make it suitable for disposal or re-use. The various removal of suspended solids and oil from water include, gravity sepration, hydrocyclone, floatation and filtration.
They are diffrent application for hydrocyclone.
Desanding Hydrocyclones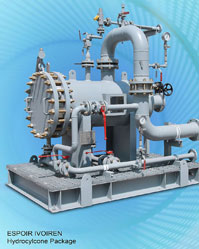 Desanding Hydrocyclones are used for solids removal from produced water and oil or gas condensate streams. In produced water applications solids are typically removed to protect downstream equipment or to facilitate produced water re-injection. In crude oil or gas condensate applications they are mostly used to prevent build up of sand in separators and pipelines and to protect sensitive items such as export pumps and heat exchangers. Due to the relative ease of separation of solids from liquid phases compared to oil water separation, (due to relatively large particles and high differential density), there is more flexibility to adapt the size desanding hydrocyclones to a particular application to achive the most cost effective solution.
The PECT-F® system has been developed to improve significantly the performance of produced water deoiling hydrocyclone systems. The technology is aimed at existing systems which do not meet current legal or stretch targets for discharge, or require excessive chemical dosing to do so. It is also applicable to new-build systems where the application of hydrocyclones is potentially marginal due to difficult fluid characteristics.
Deoiling Hydrocyclone
Deoiling Hydrocyclone represents the state of the art in Hydrocyclone produced water treatment technology, optimising the balance between oil removal efficiency and capacity, ensuring that sepration requirements are met in the most cost effective way. In combination with PECT-F® technology, our Deoiling Hydrocyclone represents a step change in produced water treatment capability.
Supplied in Duplez Stainless Steel as standard, but also available in 316 stainless steel, both options use surface hardening on the internal surfaces exposed to high fluid velocities to ensure long life in erosive systems. The design of the Hydrocyclone body, or liner, is made from only two components and has been developed ti minimize manufacturing cost and lead time, In addition the liner also has features which facilitate it's interface with PECT-F® technology.
For particularly erosive applications we now offer Deoiling Hydrocyclone liners in a range of ceramic materials, such as Reaction Bonded Silicon Carbide.
The external dimensions of the liner have been selected to provide an ultra-slim Hydrocyclone which allows extremely high numbers of liners to be accommodated within a given vassel size. This is especially beneficial for retrofit expansions where system capacities can be increased by up to 30% without the addition of extra Hydrocyclone vessels.
Engineering Design
Using the latest CAD drawing software, we are able to generate 3 dimensional view to fully optimized the space for pipe routing and ease of maintenance.