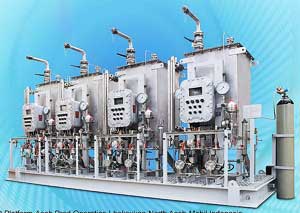 Global Tech customized Chemical Injection Systems that are designed and manufactured to meet detailed client specifications. From third party certification like ABS/DNV to complete Factory Acceptance testing, utilizing in-house project management, the most current computer designs and the latest industry engineering standards to meet customers requirements.
Application
Chemical Injection Systems are used widely in onshore and offshore oil and gas production, refining and chemical processing. water treatment, pulp & paper as well as power generation.
Benefits
Rugged Design
Precise rate Adjustment
Accurate Flow Measurement
High Efficiency
High Pressure
Mechanical Performance Guarantee
Spill Containment
Unit Responsibility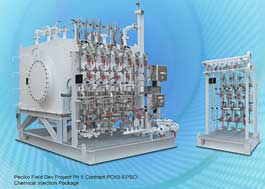 Features
Heavy duty API 674 and API 675 Reciprocating Metering pumps
Packed plunger or diaphragm fluid ends
carbon steel and 316SS fluid ends
Full flow relief valves
Bladder/Diaphragm type suction/discharge dampeners
Carbon steel and 316SS piping/tubing
Totally-enclosed fan cooled (TEFC) motors
ASME/ANSI pipe welding/fabrication
Hydrostatic testing of all piping
AWS D1.1 structural welding/fabrication
Garnet blasting of fabricated piping and structrual skids
High quality coating system suitable for offshore enviroment.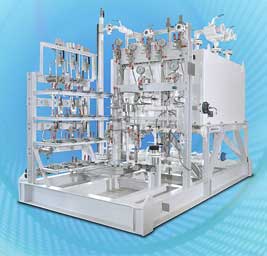 Optional Features
Double diaphragm fluid ends with leak detection
All NEMA or IEC rated enclosures and components for class 1, Div 1 or Div 2 electrical areas or zone 1 or zone 2 to ATEX directive
Remotely controlled rate adjustment for multiple injection points.