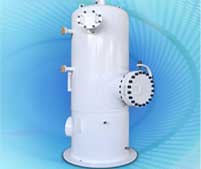 Global Tech Stystems Engineering Pte Ltd, a subsidiary of main board listed KS Energy Services Limited, is a leading provider of engineering consultancy services, project management, fabrication and the supply of customised process package equipment for various industries. We have concentrated over the years on the development of process skid that enabled the focus of her extensive engineering and facilities toward the production of pressure vessel for the refinery, chemical, petrochemical, oil/gas and marine industries.
Pressure Vessel
Pressure Vessels are generally used process equipment that are suitable for offshore and onshore utilization and are quality manufactured to ASME section Vlll div 1 (latest edition) with ASME U code Stamp. A full MDR [Manufacturing Data report] will be provided to our customer.
Rugged Design
ASME Sect. Vlll Div 1 U-Stamp code certified
Choice of Materials by customer.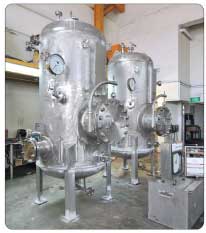 Design and Technology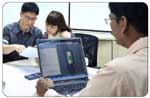 GlobalTech has invested significantly in computers and software for design optimization, drawing generation and production scheduling. For pressure vessel we are able to design to various internation standard such as ASME, BS 5500, etc with the aid of PV Elite software for mechanical strength calculation.
Fabrication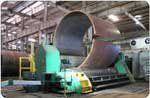 To meet the evolving requirements of the industries in which we operate it is essential for our people to process the right skill sets and competencies through training and certification. We have qualified welders in accordance with ASME code sec. lX and ASW D1.1 and are ready for additional certification if required by customers.
Quality Assurance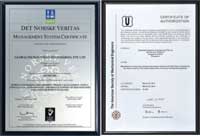 GlobalTech Systems Engineering (GSE) Pte Ltd is dedicated to being the leading and choice company in supplying quality engineering products and services to the oil and gas, marine and chemical industries on a global basis.
To achieve the desired assured level of quality, the management of GSE commits itself to maintaining and continually improving a quality management system in full compliance with the requirements of internation standard ISO 9001