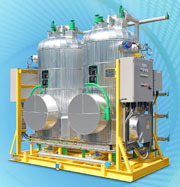 GlobalTech design and manufacture complete process heating, instrumentation and control skid modules for use in Zone 1 or Zone 2 hazardous or safe area, incorporating standard process heaters and control system designs or engineered to individual client requirements.
Hot Water Calorifiter
Calorifiter are used to supply hot portable water for various utilities such as showers and washdown systems etc. Skid mounted calorifiers can be supplied with large capacities, typically 2×2000 liters, and for offshore applications can be custom engineered to meet project specifications and tight dimensional constraints.
Typical Components
Electric Heaters
Pumps
Control Panels
Pressure/Vacuum relief valves
Instrumentation/Pressure/Temperature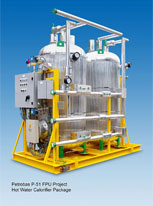 Features
Modules suitable for installation in non-hazardous or Zone 1 and class1/Div 2 hazardous areas
Single point piping connections for flow and return.
Single point terminations for field power and instrumentation cabling
IP65 weatherproof protection
Control and measurement instrumentation for process temperature, flow and pressure can be supplied as our standard or client preferred manufactures
Thermal insulation
Pre-wired for ease of installation
Electric heaters can be supplied from our standard range or can be designed to meet specific requirements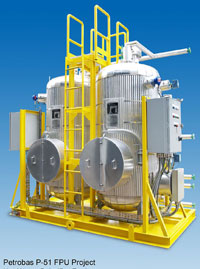 Fuel Gas Systems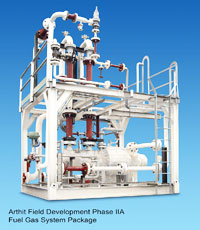 The fuel gas system can consist of pressure reduction / regulation, preheating and superheating for dew point control and filtration. Packages can involve sample designs such as skid mounted with heaters or complicated with KO drums, filters, heat exchangers, valves, pipework and all instrumentation / control equipment. Systems can be supplied with suitable inlet pressures and of various materials including low temperature carbon steel, stainless steels, 22% Cr Duplex 6Mo etc to the specific gas composition and environment.
With electric heating, electric heaters can be single unit or muti-unit for ease of maintenance or large load configurations. Electric heaters elements are manufactured from corrosion resistant sheath materials e.g. incoloy 800. Other materials such as inconel, titanium etc. are alos available to suit on gas composition. Thyristor control panels are generally supplied to control the heaters and can be skid mounted or off skid located in safe such as switch room.
Other Heating System
Other package heating system that we can design and manufacture includes:
Crude oil treatment skid
Fuel oil treatment skid
Heating medium skid
Process heating skid
Engineering Design
Using the latest CAD drawing software, we are able to generate 3 dimensional view to fully optimized the space for pipe routing and ease of maintenance.